Web hosting is essential for empowering anything online, and there are tons of web hosting providers. But, according to our analytics of trying a lot of web hosting over the years, we find " some of them are great while others are not that expected".
We've got a compound of hosting providers that play a vital role in ensuring your website's performance, speed, and scalability. Moreover, it's a technical form of making your website accessible to anyone with zero downtime.
In this article, we gonna explore only the best web hosting providers with you so you don't have to go through the same trial and error process that we faced. obviously, we got you covered by considering WordPress-related features, performance, security, and price.
Let's take a deep dive In!
Table of Contents
What are the Best Web Hosting Providers
#1. Bluehost
Bluehost is one of the most popular web hosting providers around the platform and it has been recommended by WordPress since 2005.
Usually, people launch their first site because of its great offer rates and a beginner-friendly platform that makes every aspect of running a website easy.
Well, Bluehost is an affordable option that starts at $2.95 with top features
Free Domain
Free SSL Certificate
One-Click-WordPress-Install
Professional Business Emails
Beautiful Free Custom themes
SEO Tools and Accurate Analytics
24*7 Customer Support
With Bluehost, the secret weapon is probably the easy WordPress drag-and-drop builder, making it the perfect host for beginners. Also, it allows you to create a beautiful WordPress website easily without any coding or technical knowledge.
#2. NameCheap
NameCheap has been a trusted partner for its crucial domain names. They still continue to grow with their technology and phenomenal support. It's been quite popular for providing high-value domains like privacy.com.
It's important to use a registrar that you trust. Get 100% Premium WordPress hosting for Free, Get 1 month of Free Trail
Even though Namecheap is popular for Domain names but still familiar with providing hosting services here is a quick view of its features on what it offers on shared WordPress hosting are
Domain Name
Unlimited Websites
Unmetered SSD
Free CDN Beta
Auto Backup
Meanwhile, NameCheap is an excellent Budget-Friendly web hosting with affordable Prices. And it also includes amazing features like
1X WordPress website
Installed in under 90 seconds
Hosted on Namecheap Cloud
Seamless scalability as visitors grow
99.9% Uptime
3X faster than traditional hosting
#3. Hostinger
Hostinger web hosting is a great option for those on a strict budget with maximum requirements. Which affords cheapest as starts at just $2.99/month, you can start with Hostinger and Utilize all the features such as Free Domains, that come along with this Pack.
You can scale up to a more premium plan if you need more performance on your site. Here are some of the features that I like about Hostinger:
Free Domain
Lifetime SSL certificate
DDoS protection
Fast speed
One-Click-WordPress
User-friendly interface
24/7 customer
Therefore, Hostinger is one of the cheapest web hosting providers. But, that does not make it any less good in performance or speed. Efficiently, a great choice to start with among hosting providers in today's modern world.
#4. Hostgator
HostGator has been doing this since the Jurassic (aka since 2002), so they're amazing in helping beginners and pros alike that it takes all kinds of plans. Where tools are designed to grow with you, so you'll never outgrow them.
With HostGator, 30% of customers are web pros and hosted 2+ Million websites so far. Then you've really got a winning combo.
Yup! they are well known for website pros and focus want they need in all. So go on and swim in maximum customization, configuration, installation, and flexibility while their best-of-the-best tech team supports you from the side. If they haven't reached Dedicated perfection yet, they're pretty dang
100% Server Control
SSD Hard Drives
DDoS Protection
IP-based Firewall
Flexible Control
Having a dedicated server to call your own is already pretty neat. But combine that with HostGator's pro team and almost 20 years of experience?
What are the Best WordPress Themes?
Branding identity is more important than ever, and your website should accurately reflect your business. As luck would have it, WordPress has multiple themes and widgets to bring style and personality to your pages.
Well-designed pages will catch the attention of your readers and create interest in your content. In other words, your content is how you communicate with visitors to your website, and you want to make sure they find your pages user-friendly.
Information should be well presented and easy to navigate. Fortunately, WordPress has plenty of tools to format your website in a way that allows users to move from one page to the next with ease.
Make sure your website looks professional so people love to visit your website again you can grab blazing WordPress Themes Envato is top-notch.
Professional WordPress Themes & Website Templates for any project
Discover thousands of easy-to-customize themes, templates & CMS products, made by world-class developers.
What is Web Hosting providers?
Web hosting simply means establishing your online presence, it's essential to understand the functions of different web hosting. Whether you're building a website for yourself or an online business.
Keep focused on choosing the right web hosting provider that has no downtime. So, you can make smart moves in your websites just by knowing which type of web hosting fits your Business.
Web hosting is the process of buying an online server to store your website content and files on the internet. However, Signing up to create an account for a web hosting service empowers you to publish your website online.
What are the types of Web Hosting Providers?
There are different types of web hosting providers to choose from, and the right option for your project relies on your budget and preferences.
And each hosting type caters to different needs and choosing one will depend on several factors such as the type of your site, and technical knowledge.
To find which hosting service is the best choice for your website, let's look at the overview of the most common hosting types. But explaining this further, the best way is to break down the general population, in short, there are three hosting scenarios we typically see
Shared Hosting
Shared hosting is a type of single computing server that handles multiple websites. It is one of the most popular hosting options for those who are building out their first websites. But, what is shared hosting, and does it make sense for your website?
Basically, It is the cheapest and most economical option for your needs. However, the cheap price comes with limitations, which we'll get below. Since most hosting providers will offer a similar amount of space and storage it's important to choose a company you can trust.
Shared hosting sounds pretty good: it's affordable, has solid uptime, and is easy to manage, we highly recommend choosing Bluehost, Hostinger, HostGator, or NameCheap.
Pricing
Plans usually range from $3 to $25 a month. There is nothing wrong with starting price. Probably you get what you pay for! but you should know a few things. So even though you don't know, your website might be on the same server as 500+ other people.
Features of Shared Hosting Providers
Web Hosting providers will take care of your server configuration and handle server tasks like updating software and security tools. This helps you to focus on building and growing your site rather than maintaining it.
This type of hosting is simple and easy to set up, so it won't take much time to get started. Website owners can also install and host multiple sites on a single account, which is excellent for handling numerous site projects.
However, the number of websites they can manage on each account will depend on the web hosting service provider and plan they choose.
Best For people with minimal traffic, such as blogs and small business websites. It's a good start and you can scale up anytime once you experience high traffic
Pros:
Low-cost
Pre-configured server options
Requires no technical knowledge
Developers take care of server maintenance
Cons:
Shared IP address
Little to no control over server configuration
Shared resources with other websites can affect security and speed
VPS Hosting
VPS stands for Virtual Private Server where website owners can have their own server with an operating system that is allocated with a unique IP address. This type of hosting operates several accounts on a single server but provides dedicated resources for each of the users.
With a VPS, web hosting providers install a virtual layer on top of their server's OS, splitting the server into multiple partitions. Above all, This can be the smartest way of hosting your website
Similarly, it can mean bootstrap startups and people with more development or WordPress experience and large traffic.
VPS hosting is for people who are typically concerned with performance and realize its importance in the success of their business. But, regular setups might include using along with a tool to manage it more easily
Here are some of our recommend VPS hosting which results in good at performance and manages high-traffic websites
There are two types of VPS hosting
Managed Hosting and Unmanaged Hosting
Using an unmanaged VPS you're responsible for configuring and maintaining the server yourself. So you can take more control of your server but, you need to perform some tasks such as monitoring security threats, upgrading software, and back-ups.
For instance, if you want to build a WordPress website, you also need to install server-side technologies like Apache or LiteSpeed. Since using unmanaged VPS requires users to run and maintain a server themselves, it's a good choice for web developers or website owners with a technical background.
Your time is worth the money and you should be spending it on growing your business. Click here to know the step-by-step Guide on how to install WordPress on VPS web hosting.
Best for: Website owners who require more control over their servers and handle a minimum amount of traffic.
Pros:
Provides dedicated server space
Configure their server space
Doesn't require much technical knowledge
Cons:
Struggles to handle high traffic levels or lags
Performance is still affected by other websites on the server
Cloud Hosting
Cloud hosting is a type of hosting that utilizes multiple web servers to ensure maximum performance and uptime. Compared to the other types of web hosting plans, this service offers exceptional availability as it is capable of distributing web files across several virtual servers.
Cloud hosting providers handle traffic surges much better by using other web servers for untapped resources. Many cloud web hosting services include simple server management, allowing users to quickly scale and keep track of the hosting metrics such as data transfer, disk usage activity, and CPU utilization.
Large-scale businesses realize that managed WordPress hosting is a good investment because it saves them workforce, and time, It offers better performance, and the primary reason is of it's fine-tuned for the CMS.
Best for people typically ranging from small to medium sized businesses with high traffic and also companies looking forward to specialized enterprises' WordPress hosting.
Managed WordPress Hosting
If we come to the Plans for managed WordPress hosting generally ranges from $25 to $150 a month or more, depending on the size of your site and needs. Here are some popular WordPress hosting providers you're probably familiar with
Isn't it exciting to see that Large companies like jQuery, Plesk, and NGINX use WordPress to host their website, and to your surprise 130+ top WordPress large companies host with managed WordPress hosting
What are the best WordPress Web hosting Providers?
WordPress empowers business owners, bloggers, and publishers with the full capability to build, publish and manage their content. In addition, WordPress has a simple user interface that makes it easy for anyone to get their new site online.
Let us get straight to the point. Go for any affordable web hosting provider. As we already touched on this in detail here is a quick list of our top recommended providers
By considering WordPress-related features, performance, security, and price these web hosting providers offer one-click WordPress-Install so you can take off your dream website without any technical stuff or hosting issues.
With its straightforward interface, WordPress is perfect for users more comfortable with word processors than FTP programs and hand-coded web pages. Ease of use is just the beginning.
Developers have published thousands of WordPress themes, plugins, and widgets that let you create a site that's truly yours.
What are the Best VPS Hosting Providers?
Contabo – VPS Web Hosting Provider
Contabo is one of the most popular web hosting providers especially when someone looks for VPS and cloud hosting. People choose to go with Contabo only for two great reasons. High performance and low cost.
VPS hosting plans start from $6.99/ month is an incredible offer whereas others web hosting providers offer shared hosting at the same Price.
Unlike most competitors, Contabo has a fully unified hardware platform in all Data Centers around the world. Take a look at its features of
High performance VPS
Data Centers are across the globe.
Focused on security and safety.
Get 32 TB of outgoing and unlimited inbound data transfer.
The connection speed ranges between 200 Mbit/s and 1 Gbit/s.
Amazing pricing strategy.
Basic Plan: 4 vCPU, 8 GB RAM, 32 TB Traffic, and 50 GB NVMe at Just $6.99
Contabo is low in price because of its effects of scale that comes with German Quality. Thanks to that and you not only get better discounts on the purchase prices but also save money & time on maintenance.
However, Servers are available globally and have launched their services in 6 regions and 9 countries. Know how to install WordPress on Contabo VPS hosting without cPanel – Superlative Guide. Save your hard-earned money without a cPanel subscription monthly cost.
Linode – VPS Hosting Provider
Linode is a cloud hosting provider that focuses on providing Linux-powered virtual machines to support a wide range of applications. Which gives access to its roots, and you should be familiar with some technical skills because you may feel it's not beginner-friendly.
Always use the deployment of 1-Click apps over it by making your installation process simple and quick
It provides an extensive API for accessing servers and products through custom code. Using this API, developers can:
Handle tasks in Cloud Manager
Setup Linode Server
Manage Network IP addresses
Deploy Kubernetes cluster
Open support tickets
Manage Linode storage
Configure node balance's
The fact is that Linux is not beginner-friendly, and even experienced developers need to watch their steps while updating or patching applications to avoid server and application crashes. So a basic understanding of LAMP for PHP applications is expected to start smoothly.
Cloudways offers the following server specifications for Linode:
RAM Range: 1GB to 192GB
Price Range: $12 to $1205
Core Processor: 1 Core to 32 Core
Storage: 25GB to 3840GB
Bandwidth: 1TB to 20TB
Liquid Web
Liquid Web specializes in managed hosting with stellar support. It offers fully managed dedicated servers, VPS hosting, cloud hosting, and managed WordPress hosting. As an added advantage they offer enterprise and custom solutions which is great!.
Their premium managed WordPress hosting is optimized specifically for WordPress and tuned for speed, performance, and security.
Unlike other managed WordPress hosting providers, there are no limits on the number of visitors you can have or the plugins you can use.
Liquid Web's Managed WordPress hosting has three tiers:
Personal
Professional
Agency
They differ based on the number of websites you can host. All plans include:
Pre-installed WordPress
Free SSL certificates
Free migration
Automatic WordPress updates
Automatic backups and one-click backup restores
One-click staging sites (available with the WordPress dashboard only)
Choice of Liquid Web's WordPress Dashboard, iThemes Sync Pro, or cPanel with WP-CLI/SSH Access
You can choose either fully Managed VPS hosting or Cloud Dedicated servers, which experts suggest that's an excellent choice for designers and web professionals, or Woo-commerce.
What to Consider with Web Hosting Providers
Analyzing the crowds of people into three different groups above doesn't mean it's always the right way to go. You can perform your own research based on the server and locality of the targeted audience in your niche, and that's the smartest way to make the right choice for your business.
Perhaps, we recommend you start with the VPS hosting method and upgrade to managed hosting after growing the amount of your traffic. Here is a quick guide below on how you can host your website with Contabo.
Before purchasing any of the hosting services, it's also essential to look for a web host that offers the best features for your site. Here are the key aspects to consider when choosing a web hosting provider:
Speed
Site speed can affect user experience – around 40% of visitors expect a website to load in no more than 3-5 seconds and leave the site if it takes longer than that. Make sure to choose the web hosting providers that offer the fastest servers which can increase your website speed. 
Also, look for hosting service providers with data center locations close to your visitors since it will help make your web pages load faster for them. Check out tools such as GCP Ping to measure how distance impacts loading speed.
Performance
Choose a reliable web hosting provider with an uptime guarantee, promising that the provider will keep your site accessible online for a certain percentage of the time. Almost every hosting providers offer 99.9% uptime.
Also, look for a hosting option with uptime monitor tools that can alert website owners in the case of any downtime issues.
Security
Hackers would love to place their hands on your website. Performing random cross-checks among web hosting providers with necessary security features to keep their websites safe. Keep in mind that the security tools needed will also depend on the type of your website.
For instance, if you create a WordPress site, it can be helpful to have a spam prevention tool to remove unwanted comments on your page. Make sure your hosting service provider offers an SSL certificate to protect data and visitors' personal information.
Add-ons
Sometimes website owners need additional tools or services to improve their functionality. Thus, choose a web host that offers a wide range of add-ons such as antivirus software, email accounts, content delivery networks CDN, or extra bandwidth and storage.
Support
For people with no web development experience, there is an option for beginners where hosting providers support 24/7. This allows website owners to get assistance from experts when a technical difficulty arises.
A web hosting provider should also offer an extensive knowledge base or educational blog to help users learn about different web-related topics.
Cost
Remember that hosting is an ongoing cost, so it's mandatory to spend time researching a service that offers the best value for your money.
If you're still confused about purchasing hosting services, try to find a web hosting provider that comes with a money-back guarantee.
This gives you a chance to test the web host's performance and ask for a refund if you're dissatisfied with the service. The web hosting provider you choose should also offer room to grow, allowing you to upgrade to a plan with more resources without affecting your site performance.
Are you still confused to choose the right plan for your website? Play with this toggle to make it easy and start your website today !
Special Discount *for a limited time only*
what is Domain Hosting Provider?
A domain name registrar is a company that manages the reservation of Internet domain names. Where it allows you to purchase and register domain names. All domain name registrars are accredited by ICANN (Internet Corporation for Assigned Names and Numbers)
Domain names make users easy to use over the internet. Without domain names, you'll have to enter long strings of numbers called IP addresses to visit websites.
A registrar operates in accordance with the guidelines of the designated domain name registries.
How to Buy a Domain Name?
Nothing beats free! The cheapest domain registrar is Bluehost or Hostinger since they offer you a free domain name with web hosting simultaneously.
In case, if you're looking for the best domain registrars for 2022? Then you must be familiar with GoDaddy or NameCheap. Domain name prices may vary based on the type of domain extension and registrar you choose, but a typical domain should cost between $9 and $14.99 per year.
Note: You must pay attention during the checkout page and uncheck any add-on registrar services or upsells that you don't need like WHOIS Guard.
If you don't uncheck those options, then this would increase your bill significantly. Typically a .com domain name should not cost you more than $14.99 / year. If it does, then the code is red.
Namecheap
Namecheap is one of the top domain registrars on the internet. They have a powerful domain search tool that helps you find the right domain name and makes suggestions when your preferred domain name is not available.
They also offer domain add-on services like domain privacy and premium DNS. Namecheap's domain management area is clean, but it's not as user-friendly as GoDaddy's new interface.
One excellent feature of NameCheap is that they offer free WHOIS privacy with all their domain names.
GoDaddy
GoDaddy is another oldest and most popular domain registration providers. They manage more than 84 million domain names for over 20 million customers.
In addition, it offers a wide variety of popular domain name extensions to choose from. Their prices are highly competitive. GoDaddy also has a suite of other web services including hosting, website builder, email marketing, and more.
This makes sense if you're registering or managing hundreds of domain names. You can evaluate premium domain value.
But as a quick guide, here is how much a new domain registration costs with different registrars:
Bluehost – Free domain with hosting $2.75 / month
Hostinger – Free domain with hosting $2.75 / month
Namecheap – $5.98 for .com domain names
GoDaddy – $11.00 for .com domain names
How to Start a Blog By Installing WordPress.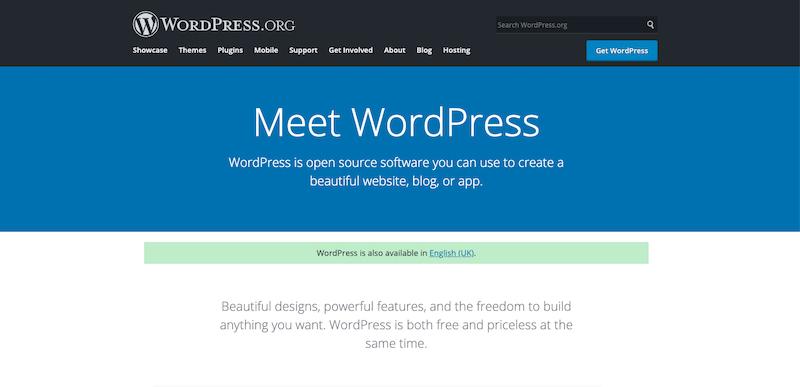 In short, Self-hosted WordPress is the best blog platform for new bloggers.
what about the good news?
Bluehost automatically one-click installs WordPress right from your hosting dashboard making starting a blog a piece of Pizza.
The first time you get to your dashboard, you'll need to pick your theme.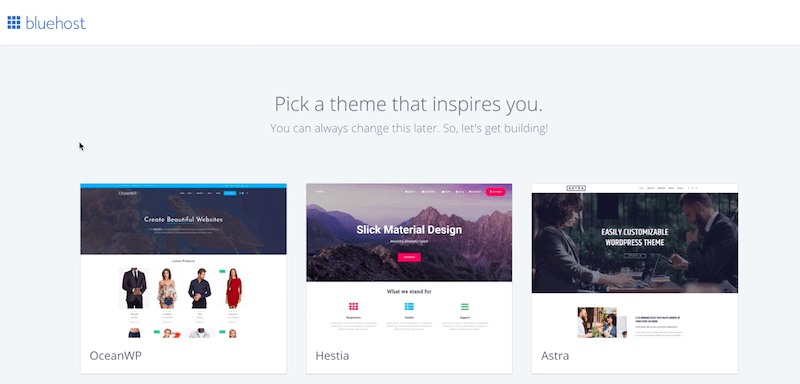 There are tons of attractive free WordPress themes to choose from, including free blog themes.
However, if you want to pick your theme later, you can skip this step for now by clicking on the "Skip This Step" option at the end of the page.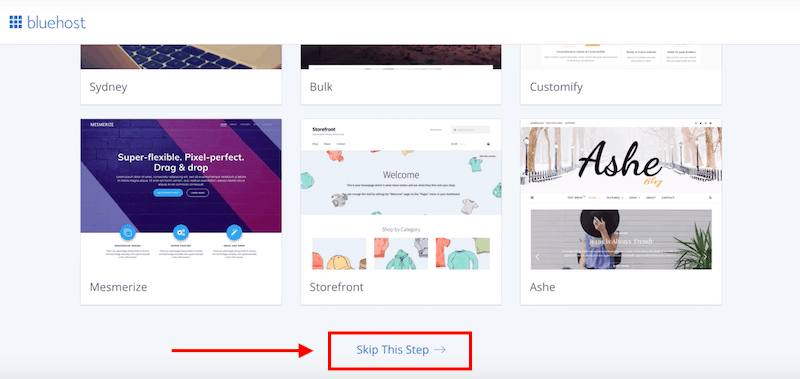 From here, you're directed to a new blog page where you need to click on the "Start Building" option.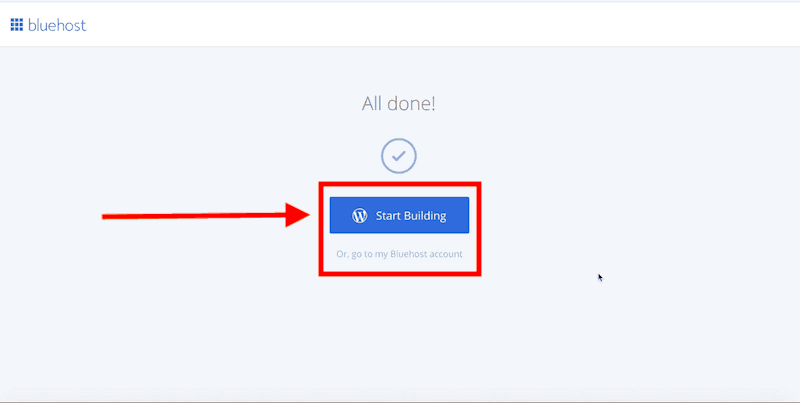 Next, select what type of blog site you plan to create, and WordPress will help you with prompts. You can also just click "I don't need help" to go right to your dashboard.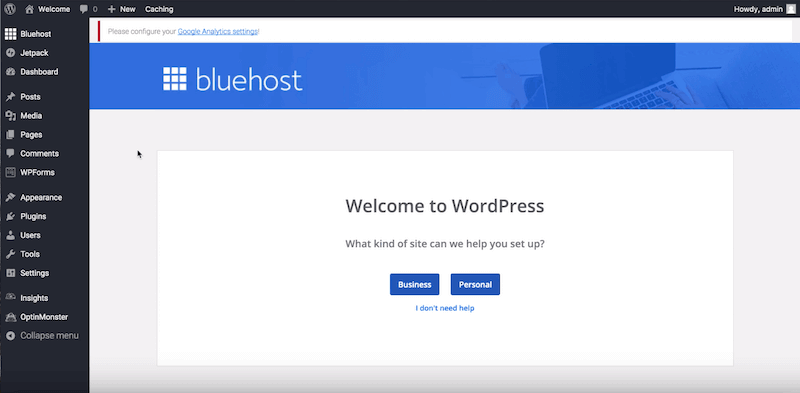 Finally, enter your "Site Title" and your "Site Description."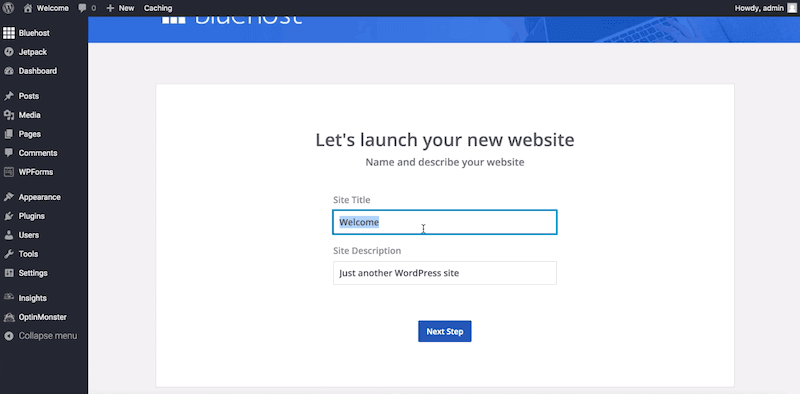 From here, spend some time making yourself familiar with the WordPress dashboard.
This brings us to our next step – choosing a theme for your blog.
Are you ready to start your blog? Get started for just $2.95/month (63% off your hosting plan) with my link below:
Pick a Theme for Your WordPress Blog.
A WordPress theme is a collection of templates, files, and stylesheets that dictate your blog design.
Right now, your blog might look something like this: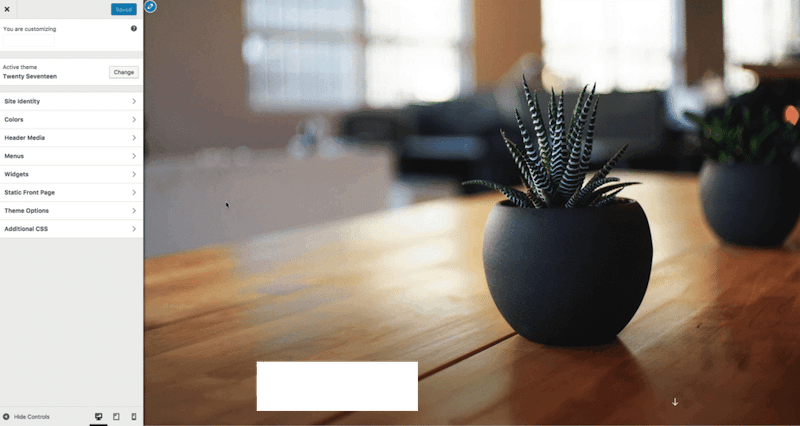 This is the default WordPress theme, and on the left side is a menu that helps you change its appearance.
Now, there are two options when it comes to themes:
You can either get a free theme with limited options or go with a paid theme.
I recommend you pick a theme from Envato to get a blazing-looking theme for your blog. 
Here's how you can install a new theme for your WordPress blog:
First, log in to your WordPress account (admin page).
You can always access your WordPress login page by going to yourdomainname.com/wp-admin.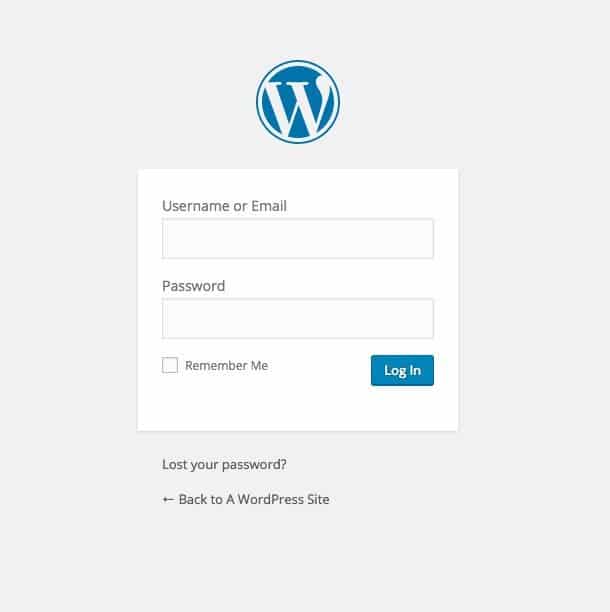 Once logged in, your WordPress dashboard looks something like this.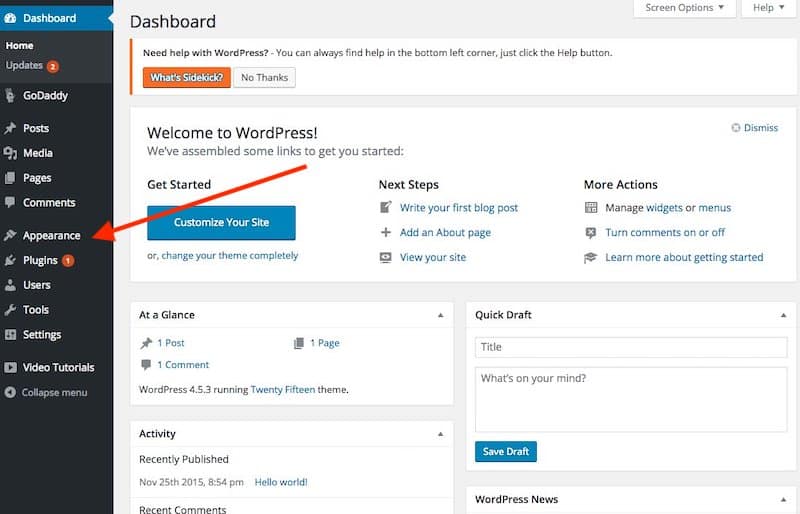 Here, click on the "Appearance" option from the sidebar menu.
Next, select the "Themes" option from the "Appearance" section.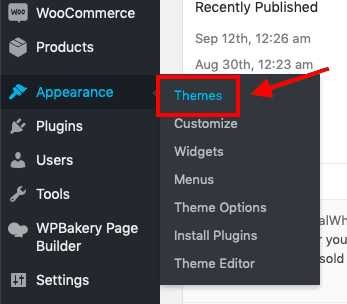 To search for the theme options WordPress offers, click the "Add New" button at the top of the page.

As you can see below, there are a ton of free themes to choose from.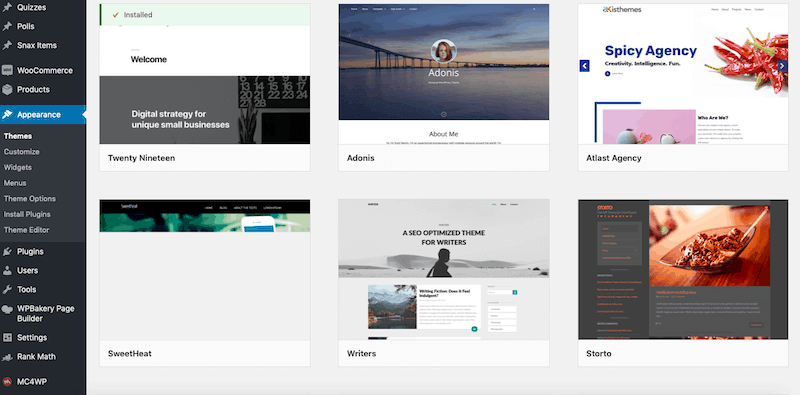 You can scroll down and preview as many WordPress themes as you want before picking one for your blog.
To install an external theme from a site like hostricks, go to "Appearance" – "Themes" and click "Add New," upload the zip file, and click install.
Done.
Ready to launch your blog and follow along with this guide? Get started for $2.95/month and get 63% off your blog hosting plan:
Sign-Up for Bluehost
Install a Few Simple WordPress Plugins.
Plugins are sets of tools that integrate with your website and extend its features.
When starting a blog, it's important to choose the best ones for SEO and site speed.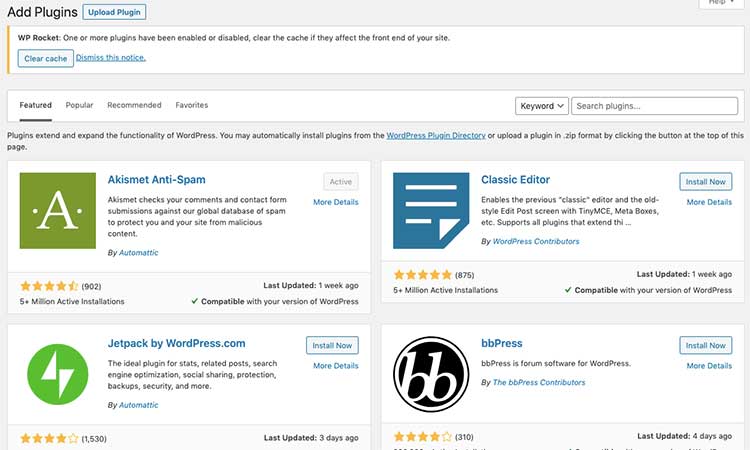 RankMath – SEO Plugin for WordPress
We have two most popular plugins for Page SEO on WordPress. But we believe RankMath is better because of its boosted functionality. It helps a site get the best SEO standards.
It makes you understand and provide a detailed report on what's wrong with your post based on the best SEO practices.
RankMath suggests you few changes from basic to advanced level. You can also add a lot more functionality to your site using the plugin:
Seamless installation
Elegant and clean interface
Google Analytics and Search Console integration
Advanced SEO analytics reports
Tracking Rank for particular keywords
Ranking keywords for posts
Easy scheme generator & importer
Managing XML Sitemap
Suggestions for increased readability
Knowledge graph for Google
and the list continues.
Therefore, the most useful plugin to up rocket your site's organic traffic. The best thing about the RankMath plugin is it has a lot of added functionality even if you use its free version. There are tons of functions you can play with this SEO plugin. Here's a hint: activate the functions only if you require them.
View Our top recommended WordPress Plugins
Elementor – Premium WordPress Designers
Elementor is a visual WordPress website builder that replaces the basic WordPress editor with a live frontend editor, so you can create complex layouts visually, and design your website live, without having to switch between the editor and the preview mode.
Here are some stunning features:
Easy Drag and Drop Method
Themes and Templates
Add Custom CSS code
Modern headers and Footers
Stylish Themes
You can create Stunning designs for your website with customized or pre-installed themes. Definitely, you gonna fall in love on your journey to design your website with more professional and elegant designs of your choice.
Visit Elementor – Best WordPress Plugins
Frequently asked questions about web hosting
After getting to know various important aspects of web hosting providers, let's look at some commonly asked questions about website hosting.
Do I really need web hosting?
Obviously, you need a web hosting provider to store your web files or data to make your website available on the internet. In addition, purchasing a dedicated server is expensive and impractical.
So, building your website on web hosting providers lets you focus on more important pieces of stuff, like producing great content and driving traffic to your website.
How much does web hosting cost?
The prices of web hosting providers may vary and depend upon the type of hosting you choose.
For instance, if you're planning to create a blog, then shared hosting is sufficient for a good start. The average price of shared hosting plans ranges from $2 to $7/month.
These are the best free web hosting providers ( Click here )
Which web hosting is best?
The best web hosting providers for you rely on your budget, skill set, and the type of website you dream to build. For instance, a large online store with thousands of visitors per month has different hosting needs than a portfolio website with fewer than a hundred visits.
Let's see which web hosting provider is the best for you to get started with:
Shared hosting – Best for bloggers and small business
VPS hosting – Best for small to medium-sized businesses with minimal traffic
Cloud hosting – Best value for money for large businesses with high traffic
Summary
Web hosting is a must for anyone who wants to build a website to store files and data to make them accessible to visitors worldwide. 
There are different types of hosting to choose from, and the right option for your project relies on your budget and preferences.
Here's a quick recap of the three common types of web hosting providers:
Shared hosting – it's easy to manage and has cost-effective plans, making it an excellent choice for beginner and personal websites.
VPS hosting – offers dedicated resources for each user. It's an excellent option for small to medium-sized businesses that have outgrown the resources of a shared hosting plan.
Cloud hosting – it's suitable for fast-growing business websites that expect consistent performance.
Since there are so many web hosting providers out there, make sure to look for a hosting company that comes with fast servers, an uptime guarantee, security tools, a variety of add-ons, 24/7 support, and reasonable prices. Check here
We hope this article has helped you a better understanding of what web hosting is and why you need it. 
Also check out our complete list of the best web hosting providers
---