What is VPS Hosting?
VPS hosting is a more secure and stable solution than shared hosting, Where 10.3% of the entire web hosting market consists of VPS platforms. Though, you don't get a dedicated server space. Anyhow, it's a smaller scale and cheaper than purchasing an entire server.
Usually, VPS hosting is preferred by website owners who have medium-level traffic that exceeds the limits of shared hosting plans but are still not concerned resources of a dedicated server.
Virtual private server solutions offer more than one hosting plan. For instance, many web hosting services provide multiple VPS hosting plans to fit different business needs and let you scale your site seamlessly when you need more resources.
Table of Contents
How Does VPS Hosting Works?
When you sign up for a hosting plan, your hosting provider will set up all the software you'll need to use it. With shared hosting, you'll probably get access to the control panel for your account right away: These hosting control panels provide you with all the options you need to configure your account.
You won't get the chance to tweak your server's actual settings, because other people are using the same machine.
On the other hand, With VPS hosting you get a server environment all to yourself. In most cases, your host will only go so far as to set up basic server software such as Apache or Nginx – and the rest is up to you.
Examples of How VPS Hosting Works?
When we get our server within our control for the When we talk about issuing commands to your server, we're referring to something like this:

Usually, you'll interact with your VPS hosting using the command line instead of a Graphical User Interface (GUI). That can be confusing at first, but you'll quickly get used to it if you don't mind Googling around for the right commands and following some simple tutorials.
What are the Benefits of VPS Hosting?
Customization
As you have your server with a VPS, you can customize it to your needs. For example, if you have your instances of server applications from PHP, to MySQL, and Apache, you can customize them so that the server fits your needs.
Cheaper
More affordable than a dedicated server. Anyhow, it's a smaller scale and cheaper than purchasing an entire server.
Dedicated resources
In contrast to shared web hosting, where there could be others sharing your server that could eat up the RAM when you want it most! But, with a VPS Server, you have a predefined amount of RAM available to you whenever you need it.
Control
Even though you share a VPS server with others, yours can be restarted without disrupting others. It has the ability to oversee a hosting environment. Also, if you plan to install applications that need you to perform a system restart to finalize the installation, you can do this without affecting anyone else, at any time.
Scalable
Another great thing about VPS is that you can purchase the resources you think you will need, and if that's insufficient, you can simply increase its size.
Why VPS Hosting is Faster than Shared Hosting?
A Virtual Private Server (VPS) is a type of cloud computing service that gives you a virtual server. You get all the benefits of a real server, including full root access, but you pay less for it. For example, A VPS is like a partitioned hard drive on your computer.
You can install any operating system you want on it, and you can even run multiple operating systems simultaneously.
VPS hosting is a type of hosting suited for people who have outgrown shared hosting. Where multiple sites reside on a single web server with shared hosting and have no guarantee of resources
Each user on a VPS hosting server has access to a virtual machine running its copy of an operating system (OS).
This allows customers using VPS hosting to experience similar capabilities and performance to a dedicated server for their sites.
VPS hosting allows fewer users to share allocated segments of hard drive space, memory, and processor power.
What are the Best VPS Hosting Providers? (Review)
#1. Hostinger – Review
Hostinger has fast and reliable servers with the best pricing of any VPS hosting on our list. Usually, it is popular for its best value plan starting from $2.99 per month which is an excellent deal for VPS hosting, Where you get 1 TB of bandwidth and 20 GB of SSD storage.
Additionally, Hostinger ensures excellent loading times with a 100 MB/second guarantee on your network. On top of that, you have complete control over your hosting with full root access.
It has a dedicated IPv6 block infrastructure to keep connections secure and efficient. Also, Its servers provide enough processing power for medium to large-scale online projects.
Let's see what Hostinger offers with its eight VPS plans:
As you can see, Hostinger's VPS hosting provides a wide range of options. Coupled with its great pricing and incredible features, the VPS hosting offers the best value for money.
Personally, I'd go with the VPS 4 plan, which gives you all the bandwidth and RAM you'd need to make sure your online project runs smoothly.
I highly recommend Hostinger for people who want fast, secure, and reliable VPS hosting.
Sign up with Hostinger today!
#2. Contabo
Contabo is one of the most popular web hosting especially, for VPS hosting and Cloud. It is a German company, previously known by the name Giga-International. If you are looking for advanced storage or web-app hosting, Contabo is among some of the best ones.
At the same time, if you're price conscious, yet quality is something greatly important to you. It's mainly focusing on advanced Virtual Private Server (VPS), Virtual Dedicated Server (VDS), and dedicated server hosting. A multiplication of key features such as disk space.
There are two types of VPS hosting: First type offers traditional hard disk with SSD boost, while the other offers SSD drives strictly. The conventional hard disk option gets you a lot of storage space at a budget-friendly price, and the SSD boost gets you faster read and write speeds.
You'll also have to choose your specific plan, and the option that's best for you depends on the amount of CPU cores, RAM, storage space, and bandwidth you need for your site.
Contabo offers several hosting packages designed to meet the needs of websites both big and small.
Recently, Contabo has upgraded the main features of its web space plans. Moreover, a simple as ambitious to offer the best web space within the entire web hosting galaxy. Here are some powerful and afforable VPS hosting plans
#1. CLOUD VPS S
4 vCPU Cores
8 GB RAM
50 GB NVMe or 200 GB SSD
1 Snapshot
32 TB TrafficUnlimited Incoming
#2. CLOUD VPS M ( Top Recommened )
6 vCPU Cores
16 GB RAM
100 GB NVMeor 400 GB SSD
2 Snapshots
32 TB TrafficUnlimited Incoming
#3. CLOUD VPS L
8 vCPU Cores
30 GB RAM
200 GB NVMeor 800 GB SSD
3 Snapshots
32 TB TrafficUnlimited Incoming
#4. CLOUD VPS XL
10 vCPU Cores
60 GB RAM
400 GB NVMeor 1.6 TB SSD
4 Snapshots
32 TB TrafficUnlimited Incoming
As you can see, Contabo offers attractive packages and low prices. Along with its shared, VPS, dedicated, and colocation hosting services, Contabo focuses on meeting clients' expectations with quality customer support.
Use your webspace plan as your private cloud and store your files and folders directly via "drag & drop" from your desktop computer to your Contabo webspace and back.
Additionally, the feature "web-disk" that each webspace plan contains by default where you're allowed to copy and paste any folder or file on your Windows, Linux, Apple, Android device into your webspace plan as if the webspace was an added hard drive!
No matter whether you want to make a simple private backup or you prefer to share files with your friends across the internet: Your own online web disk is waiting for you in all of our webspace plans!
Five times more disk space, more than 300 pre-installed PHP applications, your own online hard drive and numerous other brilliant features by default
All Contabo customers, new and existing ones, benefit from these features starting today. Sign Up Now !
#3. HostGator – Best VPS for Hands-On Customer Support
HostGator is another popular name in the world of web hosting. And VPS hosting plans are top-notch for their excellent pricing plans.
They're well known to help beginners and pros alike and it takes all kinds of plans, Where they really shine, though, is their incredible customer support.
For example, they offer free content transfers if you're migrating from a different web hosting. That's a service that you'd normally spend hundreds of dollars on at another web hosting site.
HostGator transfers "website files, databases, scripts, and a free domain registration" for absolutely no cost to you. You just have to do it within 30 days of signing up. That's world-class support.
With VPS hosting, getting excellent customer support from the right person is crucial. But, increased control you've over the server environment means that several issues can arise.
Questions get technically complex, and you may not even know how to predict what is going wrong.
Their customer support team is amazing with 24/7/365 via phone, email, or live chat to help you with any of your needs. Here are the VPS pricing plans for HostGator:
#1. Snappy 2000
Starting at $23.95 per month
2 GB of RAM
2 CPU cores
120 GB of disk space
1.5 TB of bandwidth
#2. Snappy 4000
Starting at $34.95 per month
4 GB of RAM
2 CPU cores
165 GB of disk space
2 TB of bandwidth
#3. Snappy 8000
Starting at $59.95 per month
8 GB of RAM
4 CPU cores
240 GB of disk space
3 TB of bandwidth
Although their plans aren't the lowest, they're still pretty good. Their VPS plans are geared towards more professional, experienced web managers though.
Moreover, They sound like giving developers great control over their exact hosting specifications. HostGator stands out with its reliable and multi-layer security network.
Where it has enhanced protection with the ability to easily scale your resources is what makes HostGator a top VPS choice on our list
Along with that, you get unlimited MySQL Databases, full root access, and unlimited SFTP users. So if you want more control over the technical aspects of your website, this is the host for you.
Also, it offers good cloud hosting plans as I found in my review of HostGator cloud hosting. Just keep in mind that their customer service and support fall a bit short compared to other providers.
Start With HostGator Now!
#4. Bluehost
Bluehost is an industry leader in the web hosting space. They have a wide range of VPS hosting plans that offer hosting options to accommodate the needs of every website and are an excellent choice for any beginner to start with VPS hosting.
VPS hosting gives you more control over the server than standard shared hosting does. However, with that control comes increased responsibilities, which many inexperienced users find overwhelming.
Not with Bluehost WP Pro, though. It has designed everything with beginners in mind.
Meanwhile, they offer a massive knowledge base that allows you to learn anything you want about VPS hosting. Whereas, a great customer support team can be reached by email, Phonecall, or live chat 24/7 to help out with any questions or issues.
With VPS hosting, Bluehost WP Pro allows multi-server management, where you can add more space to your plan at any given time. Also, It is ideal for websites that need to scale at a moment's notice, without any delays or downtime.
You'll be able to accomplish this directly from your advanced cPanel, without any assistance from a Bluehost administrator.
It offers various powerful plans with straightforward pricing. Where there are no hidden fees. They even give you a free domain name just for signing up.
Standard VPS
Starting at $18.99 per month
2 CPU cores
30 GB of SSD
2 GB of RAM
1 TB of bandwidth
Enhanced VPS
Starting at $29.99 per month
2 CPU cores
60 GB of SSD
4 GB of RAM
2 TB of bandwidth
Ultimate VPS
Starting at $59.99 per month
4 CPU cores
120 GB of SSD
8 GB of RAM
3 TB of bandwidth
They do offer pricing and resources for websites of all shapes and sizes.
I found in my deep-dive review of Bluehost that even if you're looking for an entry-level VPS plan, the Enhanced VPS makes more sense than the Standard option. But, for just $10 more per month, you'll get double the SSD, RAM, and bandwidth.
All VPS plans come with a 30-day money-back guarantee. For a reasonable price, you'll benefit from plenty of resources, support, and uptime compared to other options on the internet.
Start with Bluehost today!
#5. Liquid Web
Liquid Web is one of the most under-the-radar VPS hosting services out there. What they lack in name recognition, they make up for in a very powerful VPS hosting service.
Usually, all plans in Liquid Web VPS are fully managed. This means your hardware and network are taken care of you. These administrators also handle all security updates and patches, as well as support for the operating system and all software.
Each of their VPS hostings boasts a staggering 10 TB of bandwidth. That's the most we've seen so far. The 16 GB of RAM plan has up to 200 GB of SSD disk space, which is also the highest we've experienced before.
To put that into perspective for you, 16 GB of RAM is double the amount of the highest plans offered by other hosting providers.
Unlike other competitors, Liquid Web doesn't have any special or fancy names for its plans. You're essentially paying for your resources, starting with RAM.
2 GB RAM — $15 per month
4 GB RAM — $25 per month
8 GB RAM — $35 per month
16 GB RAM — $95 per month
These are all annual contract-based prices. Liquid Web has 2-year plans available upon request. But you'll need to talk to their customer service team to find out those special rates for your website.
Liquid Web is perfect for VPS hosting cases where you need a lot of bandwidth and disk space. It's a key differentiator for sites with a lot of videos, cached images, or interactive elements.
The support offered by the Liquid Web team is exceptional. They are available 24/7 via phone, email, and live chat.
Most VPS hosting providers don't offer a 16 GB plan. Though I guess most of you will need it, for those who do this is where I recommend getting it.
Let's begin with Liquid Web!
What are the Types of VPS Hosting?
There are different types of VPS hosting that allow you to perform multi-levels of customization on your own server. They vary in pricing, performance (e.g. page load time), and the availability of the service (e.g. uptime) as well.
Below, you can read about how VPS hosting compares to others.
Unmanaged VPS hosting
With unmanaged VPS, your web hosting takes over installing the operating system, and you as the site owner take over managing various aspects of the server such as:
Installing software, your control panel and taking care of software updates.
Configuring and maintaining your server including any upgrades you might want to see.
Monitoring for security threats, installing security patches and fixing error messages.
You take over the responsibility of setting up your sites backup services.
In the event of an outage or hardware failure you won't get much if any support from your host.
Best for site owners who have a technical background. This might be a bit trickier, specifically if you've never used the command line before. But you'll quickly get used to it.
Managed VPS hosting
Well, Managed VPS hosting is for Site owners with less technical acumen or a smaller staff can benefit from managed VPS. IT professionals lighten your load by keeping your server running correctly and taking care of your virtual server. Here's what you should expect from a web hosting provider:
Initial server setup – When you launch your site with a VPS there are a few steps to take in order to set the server up including installing your control panel, server software and installing any applications and your operating system. A managed host will take care of this.
Security patches – Security patches for your OS and core server software are installed and updated, on your behalf.
Updates – Similarly, all applications and OS updates, and ongoing fine tuning of the server will be handled for you.
Automated backups – In the event anything goes wrong with your site, you can retrieve it back to an earlier version.
Monitoring – Monitors for early warning signs of hardware failure and malicious attack
VPS hosting Vs Shared Hosting: What's the difference?
Shared Hosting:
Let's see a small demonstration for better understanding. We compare shared hosting is like living in an apartment complex where the same location and resources are shared among all the residents.
With shared hosting, several websites share the same resources as a single physical server.
This type of hosting is really affordable. Skilled professionals manage the shared hosting environment, a control panel is available for customers to manage their site.
The main issue with this style of hosting is the available bandwidth and room that's included.
It's more than enough for most new websites, but eventually, websites will need something that scales as they grow. Another significant drawback to shared hosting is that this environment can't handle traffic spikes very well. So you can scale up your website once it starts growing with high traffic.
VPS Hosting:
VPS hosting answers the problems of scalability and limited resources. This style of hosting is like owning a condo within a building that has fewer residents. A VPS is divided into numerous virtual cubicles within a server.
Every account will get quantities of these allocated sources (a fraction of the server's CPU, disk space, memory, and bandwidth) plus full root access. You still share the server with other people, but you now have more control over your space, using it as you see fit.
VPS hosting is definitely a great option where we get access to our root, so you can stay safe from most of the malicious attacks on your website.
For example, when you own a condo, you might install a new dining table or hang artwork on the walls without much trouble. If you want to knock through a wall or add a new bathroom, you are within your rights to do that. Unlike apartment living (shared hosting).
With VPS hosting, you may make fundamental changes to the virtual machine such as changing the operating system.
VPS hosting is a more powerful setup than shared hosting. The excellent thing about VPS is that it emulates a dedicated hosting environment but with allocated system resources divided between individual sites.
The next alternative is the most expensive option; a dedicated server where all of a server's resources are dedicated to a single user (owning a home).
How to Setup VPS Hosting?
Before we get into the technical stuff, though, we're going to explain why you'll need to configure your new virtual server. Learning how to set up a VPS hosting can be a bit trickier, specifically if you've never used the command line before.
Making the jump from shared hosting to a Virtual Private Server (VPS) is a relatively easy move. However, In this article, we're going to walk you through how to set up a VPS in five steps:
How to log into your VPS via Secure Shell (SSH) access.
Updating your server.
Creating a new user and modifying its privileges.
Enabling public key authentication.
With that out of the way, let's get started!
How to Setup VPS Hosting
As you may know, the majority of web servers run on Unix-based systems. This means you'll need to use commands tailored to that type of Operating System (OS), which are not the same as those you'd use on a Windows machine.
Additionally, you might want to install a control panel like Cyberpanel for easier management. That means you'll probably need to go through a few extra steps to get your server 'ready', such as:
Signing Up for a VPS Account
Learn how to connect it issuing commands.
Figuring out how to install new software and perform updates.
Configuring new user accounts (if needed)
Sign Up for a VPS hosting account, In this tutorial, we choose to go with hostinger, which sounds like VPS hosting also takes a look at our top components like Contabo, Bluehost, HostGator or Liquid Web
Choose the best hosting of your choice and let's start setting up your dream website
Step 1: How to Log into Your VPS via Secure Shell (SSH) Access
There are multiple ways you can connect to a website, beyond using a browser. For instance, you can try File Transfer Protocol (FTP), which enables you to upload, download, and edit files on your server: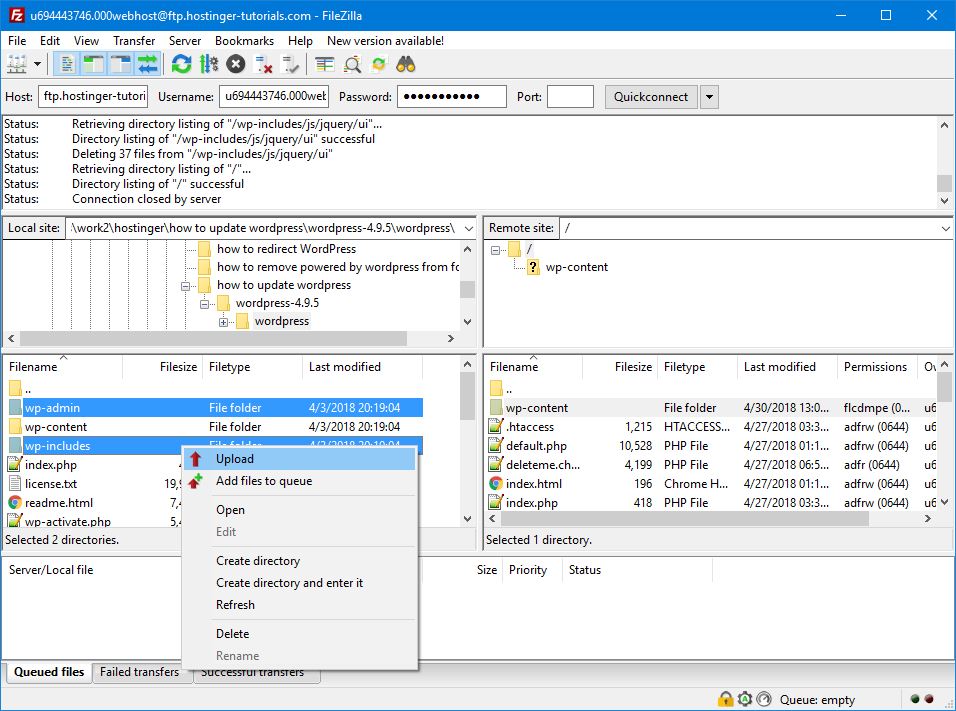 While FTP can be very useful, the protocol doesn't enable you to issue commands to your server. But, how can you do that?
You'll just need to use Secure Shell (SSH) access, which is a different type of protocol that provides you with access to remote servers.
So, Once you connect to a server through SSH, you'll be able to issue commands to it. SSH is also renowned for its strong encryption and authentication protocols, which make it highly secure.
By learning how to use SSH, you'll be taking your first steps into server management.
Once you sign up for a VPS plan, your web host will provide you with a set of credentials, including:
Your server's IP address
A username (usually root)
A password for your rootaccount
In case you're not familiar with the term (root), an account is a user with full privileges and access to a specific system. You can think of it as the equivalent of an administrator, but with even more power.
When you set up a VPS, you'll start off with a single root account, which is the one you'll use to make the initial connection. If you're using a Unix-based OS on your end, you can connect to your server directly from the command line.
However, if you're using Windows, you'll first need to install an SSH client.
What is PuTTY?
PuTTY, features a far more minimal interface. However, it offers a lot of additional configuration options. making it preferable if you really want to dip your toes into server management.
For the rest of our tutorial, we'll be using PuTTY in our examples. With that in mind, go ahead and install the program, and then execute it. You'll see a window like this one:

At this stage, you need to enter your server's IP address into the Host Name (or IP address) field, and leave the Port setting to the default value of 22:

Pro Tip
Apart from SSH connections, port 22 is used for secure logins and Secure File Transfer Protocol (SFTP). You can also change the SSH port later if you wish.
So, you may notice that there's an option to select which connection type you want to use below the IP field. Choose SSH, and then you can go ahead and hit the Open button.
A command line window will open now, and you'll see a prompt to enter your login information. In this case, that will be the root and its corresponding password:

As we mentioned before, you can find those details from your hosting provider, (Probably through the mail)
Note: Just copy the password and paste it by clicking the right button on your mouse. Putty doesn't show the password visible for security reasons. Though, your password exists.
If the data entered is correct, you'll see a brief summary of your server's details, and a prompt to enter more commands: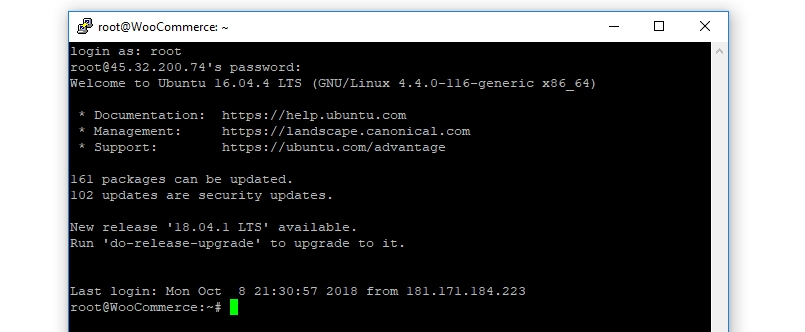 Great! That's it for the first step of how to set up a VPS. This is how you can connect to any VPS in general. Almost, the same operation for different hosting providers.
Don't close the command line window yet, however, since we still have work to do.
Step 2: Update Your Server
Once you log into your VPS, you'll see a message that intimates you if there are any 'packages' or security updates available:

Packages are essential software in Unix-speak. When it comes to any system, it's always important to keep its components up to date, and servers are no exception.
Pro Tip: If you're using outdated software, and when you open up your server (website) for security vulnerabilities. You might be missing out on new features or improved performance. That's why the first thing you'll want to do is update your server's packages, and download any pending security patches.
Perhaps, you can turn ON auto-updates
To get started, type in the apt update command and hit Enter. Now, your server will double-check what packages need upgrading. Once it's done, enter apt upgrade, which will update your server's packages:
This process might take a while, depending on how many updates your server needs to install. So sit back, grab some coffee, and wait for it to be done.
Once all your packages are up to date, you should go ahead and restart your server using the reboot command. Then, close the command line window.
Wait a minute or two, and log back in using PuTTY (or your client of choice).
If everything went according to plan, there shouldn't be any more available updates listed. That means we can move on to the next step of learning how to set up a VPS.
Step 3: Create a New User and Modify Its Privileges
Create a New User
When you set up a VPS, you start with a root user, which is the account you've been using so far. However, it's usually a good idea to set up another user account with superuser privileges.
The reason for this is that the root account can cause some severe damage if you're not sure what you're doing. A root account has full access to all of your system's settings, so one wrong command can create serious problems.
Modify Its Privileges
A regular user account with superuser privileges, on the other hand, needs to add the sudo prefix to any command it wishes to run using administrative privileges.
This could seem like a small change, but it makes a huge difference. With this approach, you'll need to think twice before running any command using the sudo prefix.
Note: This can help you avoid mishaps.
Go ahead and set up that new user now by entering the following command. You'll want to replace the second part with whatever username you'd like to use:
adduser yournewusername
Then, type in this line to add that user to the sudo group, which will give it superuser privileges (again, replacing the placeholder with your new username):
# usermod -aG sudo yournewusername
Now, all that's left is to set up a password for this account. However, there's a method that's far more secure than using a normal password, which is what we'll look at next.
Step 4: Enable Public Key Authentication
Public key authentication is a technique that's arguably more secure than regular passwords. With this approach, you generate a set of both 'public' and 'private' keys.
Your server will store your public key and use it to authenticate the private one, which only you will have access to as a file on your computer. Once you set up public key authentication, you'll need both the private key and a passphrase to log in, which increases security significantly.
To generate SSH keys in Windows, you can use the PuTTYgen app, which will have been installed when you set up the client earlier. Look among your programs for it and run the PuTTYgen app now, which should look like this: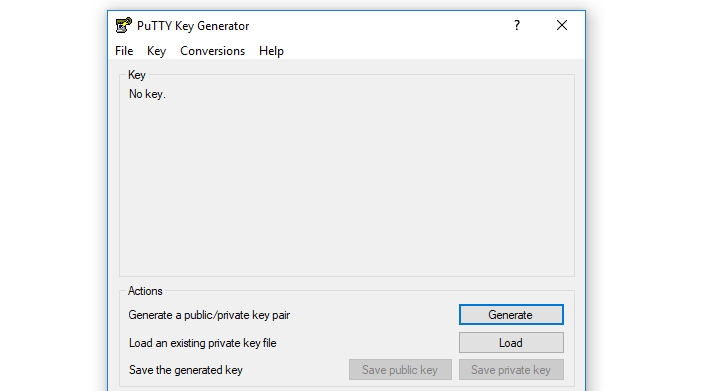 It's fine to use the default settings for your key pair, so go ahead and click on the Generate button now. To make your key more unique, the program will ask you to move your mouse around to randomize it, which is pretty cool: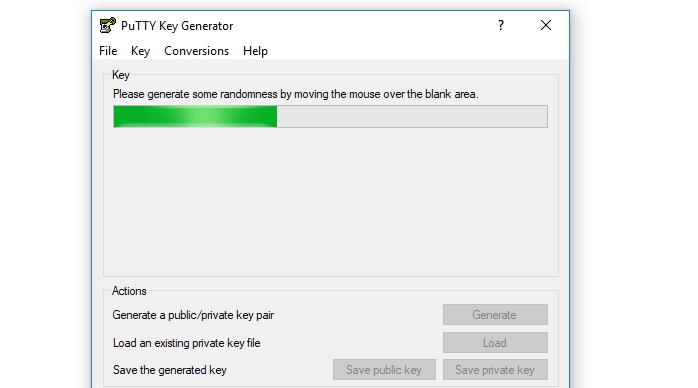 Next, the program will show you the public key generated for you. Before you do anything else, go ahead and set up an accompanying passphrase for it, which will act as a password alongside the key:

Now, go ahead and hit the Save private key button, and save the resulting file to your computer. You'll also need to copy your public key in a moment, so don't close this window just yet.
Then, log back into your server using the original root user, and move to your new account's home directory using # su – yournewusername. The command line will now reflect your new user:

After that, you'll need to run a series of commands in order, which will create a new folder for your public key, restrict that folder's permissions, and save your key:
mkdir ~/.ssh chmod 700 ~/.ssh nano ~/.ssh/authorized_keys
That last command will open up the Nano editor, enabling you to modify the new authorized_keys file on your server. Go ahead and copy your public key now from the PuTTYgen window, and paste it in here.
Once the key is ready, hit CTRL + X to close the editor, and enter Y when it asks you to confirm the changes to the file. Then, type in the following two commands:
chmod 600 ~/.ssh/authorized_keys
exit
Those will change the permissions for the file you just edited, and then return you to the root user.
Next, you'll need to configure PuTTY to use your private key when you connect to your server so that it can recognize you. To do this, return to the app's main screen and go to the Connection › SSH › Auth section. Inside, you'll find a field called Private key file for authentication:

Click on the Browse button, and then locate the private key file you stored on your computer. Select it, and you're good to go.
Finally, you need to tell your server to disable the default password-only authentication method for the new user you just set up. To do that, log into your server as the new user via SSH, and run this command:
sudo nano /etc/ssh/sshd_config
This will open the sshd_config file using the Nano editor. Look for the line that reads PasswordAuthentication inside that file, and delete the # sign before it. Then change its value from Yes to No, so it reads like this:
PasswordAuthentication no
Save the changes to the file, and reboot your server. The next time you attempt to log in, you'll only be able to do so using your private key and passphrase.
Conclusion
Learning how to set up a VPS hosting after upgrading from shared hosting is like leaving the kiddie pool to dive into an Olympic-sized one. You have a lot more room and features to play with, but you'll need to find your footing before you can start having fun.
Now that you know how to configure your VPS hosting, you've become acquainted with the command line, which will make it a lot easier to set everything up to your liking.
Do you have any questions about how to set up a VPS hosting? Let's talk about them in the comments section below!
Free domain
Lifetime SSL
DDoS protection